Pilot is the first episode of Season One of The Americans on FX, and the premiere episode of the entire series.
The arranged marriage of Philip and Elizabeth Jennings grows more passionate and genuine by the day, but is constantly tested by the escalation of the Cold War. Tensions heighten upon the arrival of a new neighbor, Stan Beeman, an FBI agent.
In 1981, Philip and Elizabeth Jennings are deep cover Soviet intelligence agents from the KGB's secretive Directorate S , operating in Washington, D.C.. Their children, Paige and Henry , do not know their secret. The Jennings abduct Timoshev , a Soviet defector, but his stabbing of a third agent during the kidnapping prevents his transfer back to the USSR. Meanwhile, FBI counter-intelligence agent Stan Beeman has moved in across the street with his family. Philip and Elizabeth disagree on what to do with Timochev in the wake of Stan's presence, with Philip prepared to take him to Stan. However, Timochev reveals he had raped Elizabeth during training years before, leading Philip to kill him. The Jennings dump the body in the Potomac River. Stan becomes suspicious when he learns that a car similar to Philip's is seen near the site of Timochev's abduction, but finds nothing when he covertly inspects Philip's trunk. In response to Timochev's disappearance, President Ronald Reagan issues a top secret executive order authorizing the FBI to use whatever means necessary to neutralize Soviet agents operating within the United States. 
Licensed music
Edit
"Harden My Heart" (1981) by Quarterflash plays over the opening scene in the cocktail bar.
A remix of "Tusk" (1979) by Fleetwood Mac plays when the Jennings and Rob are capturing Timoshev.
"In the Air Tonight" (1981) by Phil Collins is heard when Philip and Elizabeth have sex in their car. It's reminiscent of the song's use in the pilot episode of Miami Vice.
"Queen of Hearts" (1981) by Juice Newton plays when Philip is trying on cowboy boots in the shoe shop.
"Roller" (1978) by April Wine.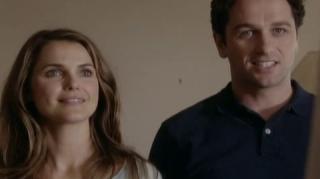 Ad blocker interference detected!
Wikia is a free-to-use site that makes money from advertising. We have a modified experience for viewers using ad blockers

Wikia is not accessible if you've made further modifications. Remove the custom ad blocker rule(s) and the page will load as expected.