New Car is the eighth episode of Season Two of The Americans on FX, and the twenty-first episode overall.
Synopsis
Edit
Philip and Henry arrive home in a new Chevrolet Camaro. Elizabeth is called to Larrick 's house, where he has subdued Lucia , who intended to abduct and kill him. Set free, Lucia makes another attempt on his life, and he begins to choke her. Elizabeth is torn between saving her and allowing Larrick to continue helping them. Philip meets Kate , who tells him the stolen propeller plans were faulty, causing a submarine to sink. Stan gives the surveillance log to Oleg and later promises to protect Nina.
| Song Title | Performer(s) |
| --- | --- |
| Rock This Town | Stray Cats |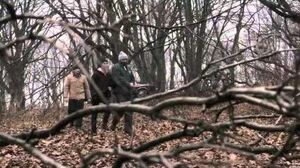 Ad blocker interference detected!
Wikia is a free-to-use site that makes money from advertising. We have a modified experience for viewers using ad blockers

Wikia is not accessible if you've made further modifications. Remove the custom ad blocker rule(s) and the page will load as expected.