I Am Abassin Zadran is the twelfth episode of Season Three of The Americans on FX, and the thirty-eighth episode overall.
The series finale of the sitcom M*A*S*H is advertised on television while Henry is sitting in front of it. Some of the events of this episode can thus be dated to February 28th 1983, which is when the M*A*S*H finale aired.
Licensed music
Edit
"Vienna" (1980) by Ultravox plays on the radio when Elizabeth discusses traveling to see her mother with Paige, and when Hans is monitoring Martha's apartment.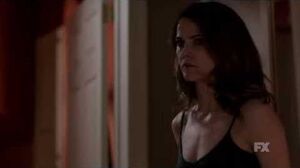 Ad blocker interference detected!
Wikia is a free-to-use site that makes money from advertising. We have a modified experience for viewers using ad blockers

Wikia is not accessible if you've made further modifications. Remove the custom ad blocker rule(s) and the page will load as expected.