Chloramphenicol is the fourth episode of Season Four of The Americans on FX, and the forty-third episode overall.
Sypnosis
Edit
A devastating flaw during a mission forces Philip, Elizabeth, William and Gabriel to confront the depths of their patriotism… and their mortality. In Russia, in striving to be a better person, has Nina put her life on the line?
Nina is "transferred". When she's led out she's been informed that her appeal has been denied and that her death sentence will be carried out shortly as a guard simulataneously pops one in her noggin from behind. As she bleeds out on the floor her body is wrapped up in a blanket and carried away.
William wears the wrong gloves in this episode. He is seen wearing blue nitrile nonsterile gloves in 1980s; however, these gloves were not introduced until the mid 1990s.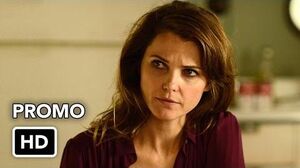 Ad blocker interference detected!
Wikia is a free-to-use site that makes money from advertising. We have a modified experience for viewers using ad blockers

Wikia is not accessible if you've made further modifications. Remove the custom ad blocker rule(s) and the page will load as expected.