Baggage is the second episode of Season Three of The Americans on FX, and the twenty-eighth episode overall.
Elizabeth and Philip come together to deal with a mission gone wrong but struggle to reconcile their increasingly opposing ideologies. Stan welcomes a Soviet defector, Zinaida, to America. Nina acclimates to her new living arrangements.
Philip calls Elizabeth to help him get rid of Annelise's body. The two stuff her into a suitcase.
Zinaida Preobrazhenskaya, a Soviet defector, arrives in the US inside a crate. The FBI is assigned to protect her as she starts doing the media circuit against the Soviet Union's involvement in Afghanistan. Zinaida wants to explore Washington, but Stan warns her that she could be in danger.
In the Rezidentura, Tatiana has Oleg follow up on where Zinaida goes. She tells him propaganda is more important than anything.
Philip asks Yousaf for the names of the members of the CIA's Afghan group, but Yousaf only knows them by their first names. So Philip asks Yousaf to organize a meeting in a public place.
Philip and Elizabeth set up to photograph the agents as they come to Yousaf's hotel room, but instead the CIA sends one agent to bring Yousaf to a bar. Though Philip thinks it's too dangerous, Elizabeth convinces him and the two go into the bar to photograph the CIA agents inside.
The FBI is still on the lookout for the KGB illegal who attacked their agents. They know she was after a list of CIA agents.
Paige tells Elizabeth about her suspicions that Philip is having an affair.
Elizabeth and Philip continue to argue about the possibility of Paige joining the KGB. Philip does not want his daughter endangered and possibly ending up dead, while Elizabeth would like her to serve her country, as they are doing.
Elizabeth meets with Gabriel, and tells him about her daughter's suspicions and about her disagreements with Philip.
Nina is in a Soviet prison. She tries to ignore her new cellmate, Evi, a Belgian citizen.
Oleg's father comes to visit her and tells her Oleg asked him to save her. She asks him to tell Oleg that she wasn't pretending with him.
Oleg tracks down Stan in a dark alley and threatens to kill him for everything he did to Nina. Stan turns and walks away. After his brush with death, Stan calls up Sandra and Matthew, and gets to an answering machine. He goes to visit Sandra, and meets her new boyfriend, Arthur. Sandra hears him out, and is glad he's okay, but she is not willing to come back to him.
Philip suggests to Elizabeth that she go visit her dying mother, but Elizabeth rejects the idea as impossible.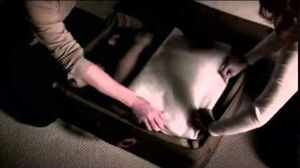 Ad blocker interference detected!
Wikia is a free-to-use site that makes money from advertising. We have a modified experience for viewers using ad blockers

Wikia is not accessible if you've made further modifications. Remove the custom ad blocker rule(s) and the page will load as expected.